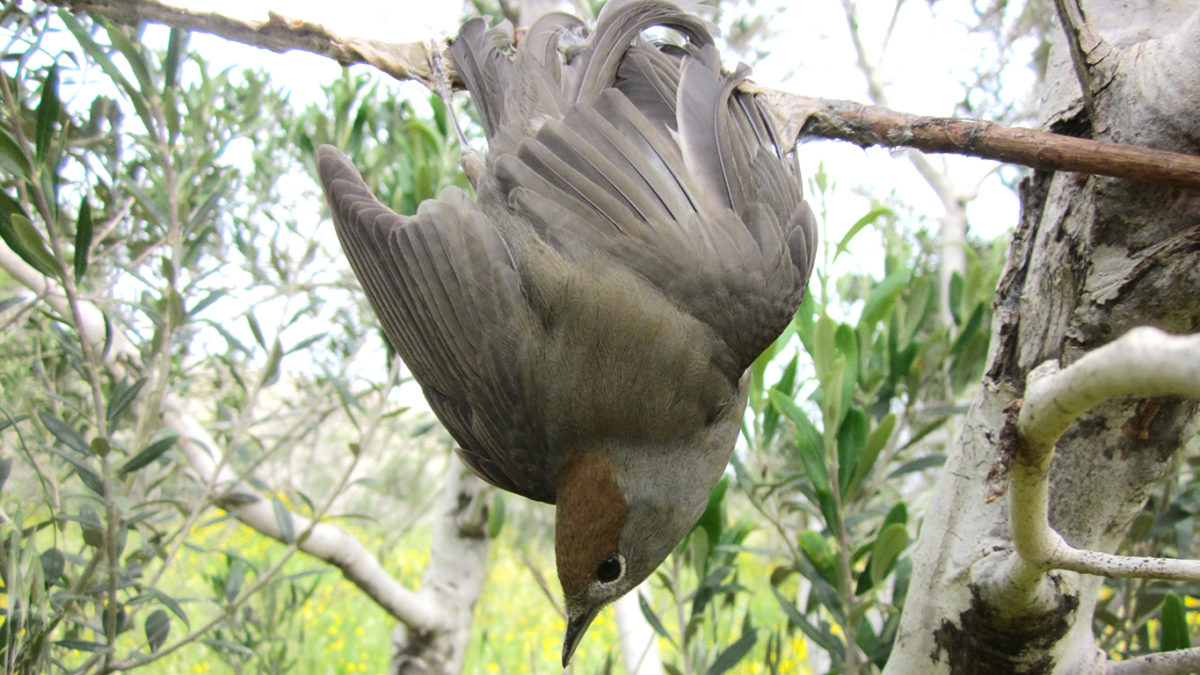 Blackcaps in Syria: protecting birds in one of the worst illegal poaching zones
In 2016, BirdLife released the first-ever comprehensive report on illegal bird killing in the Mediterranean. BirdLife Partners across the region had recorded years of observations, contributing information on how many birds of which species are illegally killed, and the reasons why different species are targeted in each country.

"We were shocked to discover that 25 million individuals of over 450 species are estimated to be illegally killed or taken alive in the Mediterranean region per year, mainly for food, sport and for use as cage birds or hunting decoys," said BirdLife's Dr. Anne-Laure Brochet, lead author of the report.

Even more worryingly, the 20 worst sites for illegal killing are concentrated in just four countries: Cyprus, Egypt, Lebanon and Syria. Approximately fourteen million birds are slaughtered illegally across these nations alone.

A staggering three to five million of these birds are killed in Syria. One of the main species targeted is the Eurasian blackcap. Poachers use vast, invisible mist-nets or sticks coated with glue to trap them in the millions, often to be eaten as a black market delicacy. One of the worst things about these traps is that they are indiscriminate. Although the blackcap isn't endangered, the traps also capture other species which are – and many of which simply get thrown away. A study of bird species trapped in mist nets at one site in the Mediterranean found over 150 different species, including 78 species listed as globally threatened by BirdLife.

Syria has hunting laws in place: the challenge, as in many places, is making sure they are enforced. Hunting of birds and other wildlife was banned altogether in Syria in 1994, but after a promising start, eventually law enforcement weakened to the point that the ban could not be maintained in any practical sense. In the mid-200s, they felt the need to make changes and update the law to again promote responsible hunting, but nothing materialised. Thanks to the 'Migratory Soaring Birds Project' the debate to update Syria's hunting laws to focus on keeping hunting responsible and sustainable is reignited.

Our BirdLife Partner, the Syrian Society for Conservation of Wildlife (SSCW), was part of the Migratory Soaring Birds Project: a partnership to protect the migrating birds that pass through the Mediterranean and the Rift Valley. As part of this, SSCW works hard to educate hunters, government officials and the public about the devastating impact illegal bird killing really has. They have had to overturn a great deal of misconceptions. Many people assume that because migratory birds are not resident in Syria, they do not form part of the national biodiversity, and are therefore a lower priority than other resident species. This is why BirdLife takes a flyways level approach to fight the illegal killing of birds, to ensure that all birds – even those simply passing through a country – is local when it's there.

People are beginning to take notice. Many hunters are now agreeing to switch to alternative livelihoods. SSCW is training them to become wardens or ecotourism bird guides, where they can use their knowledge in a way that helps birds, rather than harming them. SSCW are working hard to spread the concept of responsible hunting even further through education, a long process worth investing in to help protect birds in Syria.